Howdy!
Welcome to the Ellis County Aggie Moms Boutique and Drawing! 
Enter our Drawing HERE: Clock
This is a Must-See item! We are having a drawing in addition to our boutique items for an EXTRA LARGE (3-foot) ATM Farmhouse Clock! This will look great in any room of your house! Tickets are $5.00 each or 5 for $20.00 Proceeds will fund scholarships for Aggies in Ellis County.
Details:
Rustic white wood plank clock with metal ATM emblem

Measures 36″ in diameter

Value: $175

Drawing will be held on April 9, 2022

Pick up in Ellis County or College Station

Boutique Items:
All items we sell will go to our scholarship fund, supporting our local future and current Aggies!  
If you have any questions about our raffle or boutique items feel free to reach out to Tara Boyle (taradboyle@gmail.com / text 972-742-7973) or Paige Gordon (gordon.paige65@gmail.com / text 972-342-0924).
Thank you for supporting our club!
Yard Signs – $25.00
We have 5 different signs available!
(Average size is 18" X 24")
Purchase HERE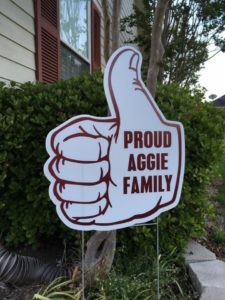 Thumb                                                       Howdy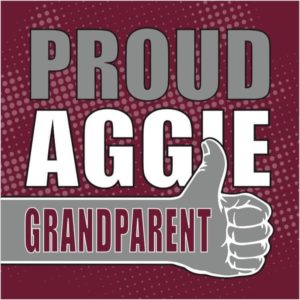 Grandparent – SOLD OUT!!

Band                                                           Corps
Ornaments – $10.00 each
New styles available, but you can also order a custom one below!
(Diameter is 3 1/2")
Purchase HERE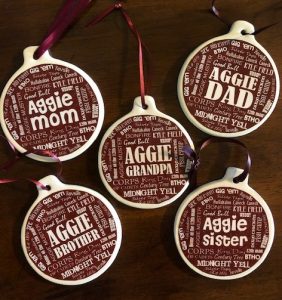 Aggie Mom, Aggie Dad, Aggie Brother, Aggie Sister, Aggie Grandpa, Aggie Grandma, Aggie Mimi, Aggie Nana, Future Aggie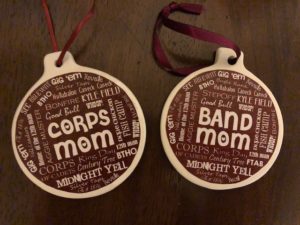 Corps Mom, Band Mom, Corps Dad, Band Dad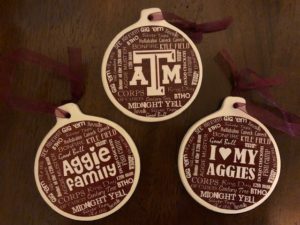 ATM, Aggie Family, I Love My Aggies, I love My Aggie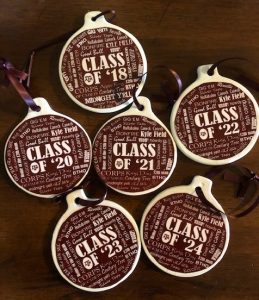 Class of '18, Class of '19, Class of '20, Class of '21, Class of '22, Class of '23, Class of '24, Class of '25, Class of '26
***********************************************
We are now offering Custom Ornaments for $15.00 each!
Purchase
HERE,
there is a 15-character limit
You can now customize ornaments with the same background as our stock ornaments above.  Just pick what you want on them! An example would include a class not listed or personalized with a name.
(Please note that the more letters you have, the smaller the print will be!)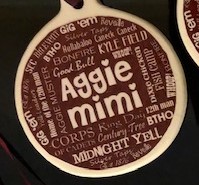 Thank you so much for looking at our site!